Subscribe to the Make Your Best Impression RSS Feed!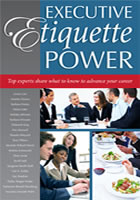 Dallas is a contributing author for the new book Executive Etiquette Power. Order your copy today!
Last DAY on the Job Etiquette
Make Your Best Impression Blog · July 22, 2009
(1) What are the best things that employees can do when they leave their jobs?
It is best when leaving a position to always work out your notice with 110% effort.  Often people tend to mentally check out when they submit their notice to terminate their employment. Understand that while you are still on the clock of the employer, you should always honor that commitment. When one mentally checks out, they are, in essence, stealing from their employer. Maintaining your professionalism during this process with only aid you in future business pursuits.
(2) What are the worst things that employees can do on their last day of work?
 Don't think that just because you are leaving your position it is OK to speak poorly about your supervisor. Regardless of the reason for leaving, one should never speak poorly about their supervisor or co-workers. This behavior has a negative effect on the person making the comments. Even if there is something widely known ( e.g. like a corporate scandal) it is inappropriate to participate in this type of behavior. If you are speaking poor about a former employer, what message do you think that says about you as a potential candidate for another position.
(3) Is it okay to display any emotions to coworkers on the last day?
 It is best to show general emotion, perhaps say good-bye to your co-workers if possible. Remember your co-workers can be the bridge to your next job. Do not just leave without saying good-bye- they might feel slighted. You want to be sure that although the job is over, the relationships are still intact.

Join Dallas as she chats with outstanding guests to empower you to reach your true potential, both personally and professionally. Listen each week to win Free gifts!

In Professionally Polished, Teague-Snider steps outside the bounds of boring etiquette books and uses real-life blunders, both humorous and horrifying, to illustrate common mistakes and lessons-learned. Some will make you laugh out loud, others will make you cringe, but all will entertain you as you learn what you need to know to recession-proof your career and get the professional edge that will make you an indispensable asset to your organization.

Dallas on the cover of Personal Excellence Magazine! The founder of Make Your Best Impression and author of Professionally Polished, Dallas Teague Snider appears on the cover of the March 2009 edition of Personal Excellence magazine.