Subscribe to the Make Your Best Impression RSS Feed!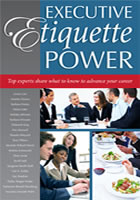 Dallas is a contributing author for the new book Executive Etiquette Power. Order your copy today!
Take Our Business Etiquette Quiz
Congratulations for taking the 1st step in becoming your best and most confident self!
To take the FREE Etiquette IQ Quiz and sign up for our free Success Tips please provide your name and e-mail address:


Join Dallas as she chats with outstanding guests to empower you to reach your true potential, both personally and professionally. Listen each week to win Free gifts!

In Professionally Polished, Teague-Snider steps outside the bounds of boring etiquette books and uses real-life blunders, both humorous and horrifying, to illustrate common mistakes and lessons-learned. Some will make you laugh out loud, others will make you cringe, but all will entertain you as you learn what you need to know to recession-proof your career and get the professional edge that will make you an indispensable asset to your organization.

Dallas on the cover of Personal Excellence Magazine! The founder of Make Your Best Impression and author of Professionally Polished, Dallas Teague Snider appears on the cover of the March 2009 edition of Personal Excellence magazine.