Subscribe to the Make Your Best Impression RSS Feed!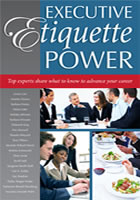 Dallas is a contributing author for the new book Executive Etiquette Power. Order your copy today!
Make Your Best Impression Home Study Course

The Business Etiquette Academy™ was created for the professional on the go. In today's world it is often difficult to carve out time to attend workshop or seminars. Perhaps our geography or the cost of travel stops us from taking action. Now there is no excuse for you not to be your best self. Take control of your success today with this personal self paced study of business etiquette and discover what you can do to make your best impression. This course is self guided and offers busy professionals like you the opportunity to learn at their own pace as time allows. This study will cover the following areas for your professional development.
The Polished Professional- Home Study Course
Elements include:
The C's of Business •  Distinguish Yourself from the Competition • Eye Signals • How to Make an Entrance and Work a Room • Improve Your Mingling Proficiency • Conversation Skills • Handshaking – The Ultimate Greeting • Introducing Yourself and Others • Responding to Introductions • How to Remember Names • Business Card Protocol • The Art of Small Talk • Golf Etiquette • Gift Giving
(1) Live DVD Presentation of Business Etiquette Training  ( 2 Hours) (1) Professionally Polished, Business Etiquette Savvy for Today's Competitive Market Action Guide  (1) Executive Etiquette Power – E-Book (1) The Unwritten Rules- Golf Etiquette  E-Book (1) Audio Home Study Series:
Business Etiquette Edge for the Savvy Professional- (sales calls)
Golf Etiquette- The Unwritten Rules
Recession Proof Your Business- 5 Key Strategies
Business Etiquette Dining Audio
Office Party Etiquette
Corporate Gift Giving
Your Investment Only: $497.00  
This home study course is offered to you at a tremendous value to encourage you to take action today.  Is that a deal or is that a deal?
The lifetime value of learning these skills is priceless. Landing that dream job, securing your number one prospect  or winning that top notch award is only one opportunity away. Will you be ready when it comes? Aren't you worth it… is your future success worth it? The only answer is YES!
For only $497, you can begin your journey in realizing your best self and unlocking your hidden potential.
Business Etiquette Academy students will receive discounts up to 20% on personal coaching, consulting, and products up to 6 months after the purchase date. You will be amazed at how awareness can make the biggest difference. Just think, you will no long have to wonder if you did or said something that cost you that client or perhaps your dream job.
If you do not feel you get at least two new ideas that can help you in your journey, you can contact us for a full refund. We are that confident that all you need are the tools to be successful.
We look forward to seeing you reach your true potential.

Join Dallas as she chats with outstanding guests to empower you to reach your true potential, both personally and professionally. Listen each week to win Free gifts!

In Professionally Polished, Teague-Snider steps outside the bounds of boring etiquette books and uses real-life blunders, both humorous and horrifying, to illustrate common mistakes and lessons-learned. Some will make you laugh out loud, others will make you cringe, but all will entertain you as you learn what you need to know to recession-proof your career and get the professional edge that will make you an indispensable asset to your organization.

Dallas on the cover of Personal Excellence Magazine! The founder of Make Your Best Impression and author of Professionally Polished, Dallas Teague Snider appears on the cover of the March 2009 edition of Personal Excellence magazine.