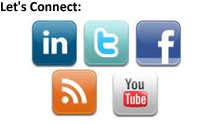 Connect with Make Your Best Impression!
Follow Dallas and Make Your Best Impression on your favorite social media sites. We regularly update our LinkedIn, Facebook, Twitter and YouTube pages as well as our blog posts that can be updated via RSS.

Rev. Dallas dedicated the Sacred Heart Prayer & Healing Center on December 2, 2018 the first Sunday of Advent. Programs ...
Divine Feminine Soul Coaching In- Person Experience – Launching in June  Hello Dear Ones. As the Holy Spirit works to reveal more to ...
[caption id="attachment_3056" align="alignleft" width="233"] Rev. Dallas[/caption] Often we allow our circumstances to control our attitude. We see our current situation as ...