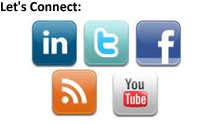 Connect with Make Your Best Impression!
Follow Dallas and Make Your Best Impression on your favorite social media sites. We regularly update our LinkedIn, Facebook, Twitter and YouTube pages as well as our blog posts that can be updated via RSS.

ForGiveness is a choice and a command! When the Lord says that we will only be forgiven as we forgive others, ...
Dallas was asked to launch a faith column for the weekly newspaper the St. Clair News-Aegis.  Currently this newspaper in ...
Often we allow our circumstances to control our attitude. We see our current situation as our limit. Please remember that ...