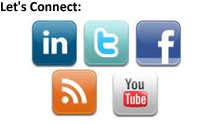 Connect with Make Your Best Impression!
Follow Dallas and Make Your Best Impression on your favorite social media sites. We regularly update our LinkedIn, Facebook, Twitter and YouTube pages as well as our blog posts that can be updated via RSS.

Often we allow our circumstances to control our attitude. We see our current situation as our limit. Please remember that ...
Etiquette is about how you make others feel? Often times we just go about  our business not thinking about how ...
Known in the corporate community as America's Business Etiquette Coach and Impression Engineer, Dallas has now earned the most respected title ...